Nortek Security & Control Wins 2018 TecHome Brilliance Award for Best Tech Marketing Program
CARLSBAD, CALIFORNIA — Nortek Security & Control LLC (NSC), a global leader in wireless security, home automation, access control and health and wellness technology, today announced that its New Home Program was awarded a 2018 TecHome Brilliance Award in the "Best Tech Marketing Program" category.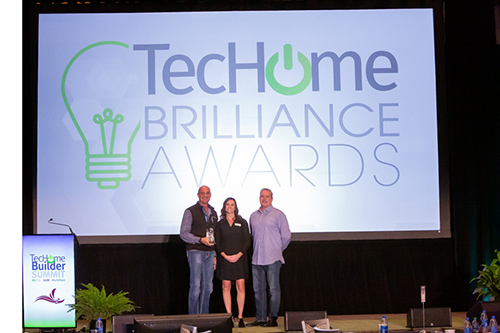 "Nortek Security & Control is uniquely able to provide new home builders with a complete range of security, automation, access control, and entertainment solutions that cover every aspect of the home," said NSC Director of Builder Services Bret Jacob. "And we don't stop there. The Nortek Security & Control New Home Program helps builders develop their own connected home strategy, and provides them with the critical backing to easily sell customized home technology packages to their buyers. The home builders who sign on to the program receive unparalleled manufacturer support with a wide array of sales and marketing tools, including product for model homes and design centers, customized brochures and signage, sales trainings, and more – all of which guarantee the builders' success in the connected home."
At the 2018 TecHome Builder Summit in December, the TecHome Brilliance Awards were presented to companies recognized for accelerating the application of residential technologies. A panel of homebuilders who are well-versed in technology served as judges for the awards, rating each entry on a set of key aspects including features and function, homeowner benefits, and unique advantages for builders and contractors.
According to AE Ventures President John Galante, "Nortek Security & Control's TecHome Builder Brilliance Award for their New Home Program is richly deserved. No manufacturer has worked harder than NSC in developing merchandising strategies, marketing assets and process guides for builders of all kinds and their tech trade partners. NSC understands that success with builders is as much about process alignment as it is product innovation and excellence. The result of their efforts is spectacular sell-through rates and increased homebuyer satisfaction and delight."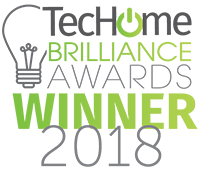 The Nortek Security & Control New Home Program helps builders create complete and effective connected home strategies. It aligns builders with certified dealers and offers them a complete range of benefits including aggressively priced and powerfully featured standards and upgrade packages, extremely important "sell-through" services, outstanding direct manufacturer product and marketing support and project oversight, and industry-leading model home and incentive programs. The program's benefits to homebuyers are equally strong, beginning with the ease-of-personalization and ease-of use delivered by NSC's award-winning ELAN smart-home control system.
About Nortek Security & Control
Nortek Security & Control LLC is a global leader in smart connected devices and systems for residential smart home, security, access control, AV distribution, and digital health markets. NSC and its partners have deployed more than 4 million connected systems and over 25 million security and home control sensors and peripherals. Through its family of brands including 2GIG®, ELAN®, Linear®, GoControl®, IntelliVision®, Mighty Mule® and Numera®, NSC designs solutions for security dealers, technology integrators, national telecoms, big-box retailers, OEM partners, service providers, and consumers. Headquartered in Carlsbad, California, NSC has over 50 years of innovation and is dedicated to addressing the lifestyle and business needs of millions of customers every day.
Nortek Security & Control Press Contact
Richard Pugnier
Phone: +1 760-517-1688
Email: richard.pugnier@nortekcontrol.com