ProSource Names Nortek Security & Control Specialty Vendor of the Year for Technology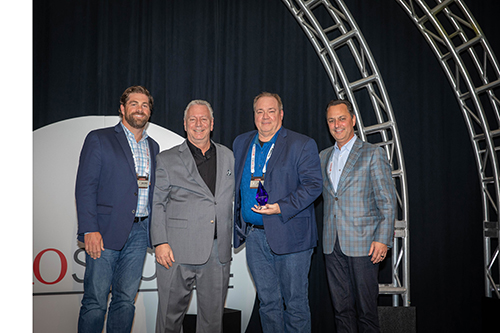 CARLSBAD, CALIFORNIA — Nortek Security & Control LLC (NSC), a global leader in wireless security, home automation, access control, and health and wellness technology, today announced that its ELAN Intelligent Home Control brand has been awarded with ProSource's Specialty Technology Vendor of the Year. The award was presented at ProSource's annual Spring Meeting, held April 29th through May 3rd at the La Cantera Resort and Spa in San Antonio, Texas.
The award is determined by vote, with nominations cast by over 500 custom installation dealers in a variety of technology categories. "We are honored to accept this year's award from ProSource," stated NSC Director of Sales Jeff Costello. "It's especially important as the nominations and votes come from the dealers themselves. The ELAN team and all of Nortek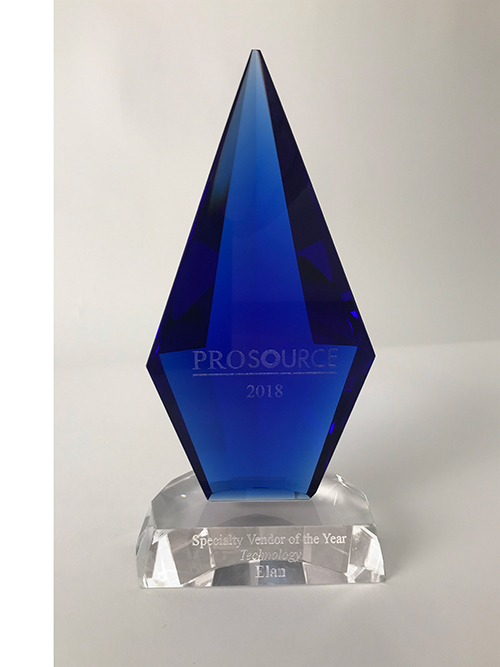 Security & Control is committed to providing our dealers with innovative products, backed with exceptional service, support and business programs."
"Nortek Security & Control is a valuable partner that provides dealers with best-in-class products and support," said Dave Workman, ProSource CEO and President. "The ELAN platform is pushing the boundaries of home automation. With the recent introduction of its Intelligent Touch Panels and Surveillance cameras – both of which are enhanced with face recognition – dealers have more options than ever before to please their customers."
About ProSource
ProSource is a cooperative, member-governed, not-for-profit buying group representing more than 550 specialty retailers and custom integrators. With annual sales of more than $5 billion, ProSource is the largest specialty and consumer-electronics merchandising group in the United States, which allows it to negotiate stronger programs with manufacturers, help independent dealers stay relevant to consumers, and keep the specialty AV channel competitive. For additional information go to www.prosourceinfo.com.
About ELAN
ELAN, part of Nortek Security & Control, develops an award-winning line of whole-house entertainment and control solutions distributed through a comprehensive channel of select dealers throughout the United States, Canada, and countries worldwide. The ELAN 8 update was honored with the "2017 Human Interface Product of the Year" award. The new ELAN Intelligent Touch Panels add face recognition and voice control for a truly intelligent home experience. To learn more, visit www.elanhomesystems.com.
About Nortek Security & Control
Nortek Security & Control LLC (NSC) is a global leader in smart connected devices and systems for residential security, smart home, access control, and digital health markets. NSC and its partners have deployed more than 5 million connected systems and over 25 million security and home control sensors and peripherals. Through its family of brands including 2GIG®, ELAN®, GoControl®, Linear®, Mighty Mule®, IntelliVision®, and Numera®, NSC designs solutions for security dealers, technology integrators, national telecoms, big box retailers, OEM partners, service providers, and consumers. Headquartered in Carlsbad, California, NSC has over 50 years of innovation and is dedicated to addressing the lifestyle and business needs of millions of customers every day.
Other brand names and product names mentioned herein may be the trademarks, tradenames, service marks or registered trademarks of their respective owners.
Nortek Security & Control Press Contact
Richard Pugnier
Phone: +1 760-517-1688
Email: richard.pugnier@nortekcontrol.com